Our Cars
Current Racecars in the stable, current builds, or Project Cars that have passed through our shop doors!
1991 Spec Miata
We began campaigning this car back in 2006 when it saw its first track event at the SCCA Double Drivers school at Roebling Road Raceway, where John piloted it to earn his SCCA Competition license. It's seen many colors, all of which are featured in the gallery. The 91' suffered a pretty big hit at Sebring in mid-2016 and instead of repairing the car, we decided to retire the car and shift focus to our in-progress 2002 build in order to get "updated" to the current climate of Spec Miata, which is NB chassis cars. We ran the 91' hard and long, and it did very well, carrying John to a few wins and a Spec Miata class championship with NASA Florida in 2010. We will build a new NA 1.6 chassis in the future and look to compete with it in vintage racing classes.
1994 Mazda Miata Project AE94
This 1994 Miata was a project we were challenged with from a family friend. He saw this old 94' sitting in our shop and said "I want you to make it cool, but also a great car to carve the NJ Pocono mountain roads with". Challenge accepted, and delivered! This car was quite the undertaking, with the centerpiece being an engine swap with a 2002 Miata. The used VVT engine replaced the high-mileage stock 94 engine and added a nice boost in power without resorting to power adding modifications that are both expensive and potentially less reliable. We had to perform some tricks with the ignition system to get it to integrate with the stock 94 coils, and install a DIY Autotune VVTUNER module to control the variable valve timing on the 2002 engine system. We also replaced the suspension system and added a few subtle race-inspired touches to the car if you look hard enough. Overall this car was an awesome performer and a great looker that we were proud of!
1995 Spec Miata
Our 1995 Spec Miata has been campaigned by Rick Adamczyk since 2007. This is the first car that we built in-house, from roll cage to paint. It is a very nice build and was put together very meticulously by Rick, and often is admired at events and shows for how clean it is. Rick takes better care of his racecars and doesn't find too many walls like John in the 91', so this car has stayed in great shape and will probably stick around our shop for a while!
1999 Miata Shop Car
This 1999 Miata has been in our family for quite a few years, and saw duty as a daily driver for most of those years. It is now a part-time driver, and our palate for testing any new NB parts that we're creating. We also plan to use this car on the track for testing of our prototype parts, so the best term for it is "shop car", as it serves many purposes! The Streetfighter name comes from a series of blogs we wrote about the car during its build-up. The concept was to have a dual-purpose street/track car that could take you back and forth to work, then to and from the track on the weekends. It still has this concept in it's DNA, but is no longer used as a daily-driver, so street based testing is limited. We will shift focus on this car to being primarily a track car that will have a "wild" side to it and allow us to test parts that are far beyond the rules constraints of Spec Miata. For now however, it is a license-plated racecar runabout that is fun to jump in a few times a week and blast down to the shop in!
2002 Spec Miata
This has been on our working project stage for many years as we were campaigning our NA racecars and couldn't find appropriate time to devote into building this 2002 how we wanted to build it. After the 91' found it's way into a Sebring wall for the last time, we shifted focus to this new car with the goal of "perfection". This car is once again being built 100% in-house, from roll cage to paint. It is also doubling as our foundation to build a whole new line of Spec Miata racecar parts, as during the build process we are creating new products and kits that we will sell on our site after they've proven themselves on the track in this car! We will be writing numerous blog articles about this car and the build process, so stay tuned to our blog section for specifics on the build process!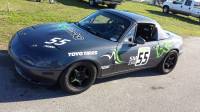 25 photos
Evolution of our 1991 Spec Miata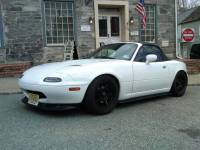 28 photos
1994 Miata with 2002 VVT Miata engine swap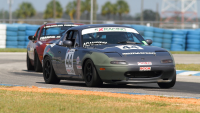 7 photos
Our first car that we built in-house, from roll cage to paint.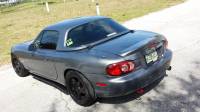 16 photos
Our test-bed for prototype NB parts and for all-around tomfoolery!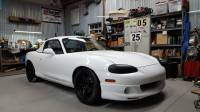 2 photos
The crown jewel of our fleet! This 2002 build has two purposes: perfection, and Spec Miata!