Home
-
Return to Previous Page
Wiseco K554M79 79mm Piston Set for 1.6L Mazda Miata Turbo
Miata Turbo 1.6L Piston Set
These pistons are designed for
Turbo Applications
with lower compression ratios. The complete specifications are below.
If you have any questions or need assistance with piston information/application, please email us.

Features & Specs:
Stainless steel gas nitride top rings
Cast iron Napier hook second rings
Flex-vent oil rings with gas nitride scraper rails
ArmorGlide skirt coating
Necessary piston rings, pins and corresponding clips included (everything needed for your Miata engine rebuild)
Sold as a full set of four (4) pistons
Availability:
Dependent on suppliers inventory
Shipping:
Drop Shipped. Shipping method dependent on source
Description
SPECIFICATIONS:
Manufacturer's Part Number: K554M79
Piston Rings Included: Yes
Bore (in.): 3.110 in.
Bore (mm): 79.000mm
Stroke: 3.287 in.
Rod Length: 5.228 in.
Piston Style: Dish, with four valve reliefs
Piston Material: Forged aluminum
Compression Height (in.): 1.258 in.
Piston Head Volume (cc): +13.00cc
Wrist Pin Style: Press-fit or floating
Wrist Pin Retainers Included: Yes
Wrist Pin Included: Yes
Pin Diameter (in.): 0.787 in.
File Fit: No
Gapless: No
Top Ring Thickness: 1.0mm
Top Ring Material: Steel
Top Ring Facing Material: Gas nitrided
Second Ring Thickness: 1.2mm
Second Ring Material: Cast iron
Second Ring Facing Material: Phosphate coated
Oil Ring Thickness: 2.8mm
Oil Ring Material: Stainless steel
Oil Ring Tension: Standard
Quantity: Sold as a kit.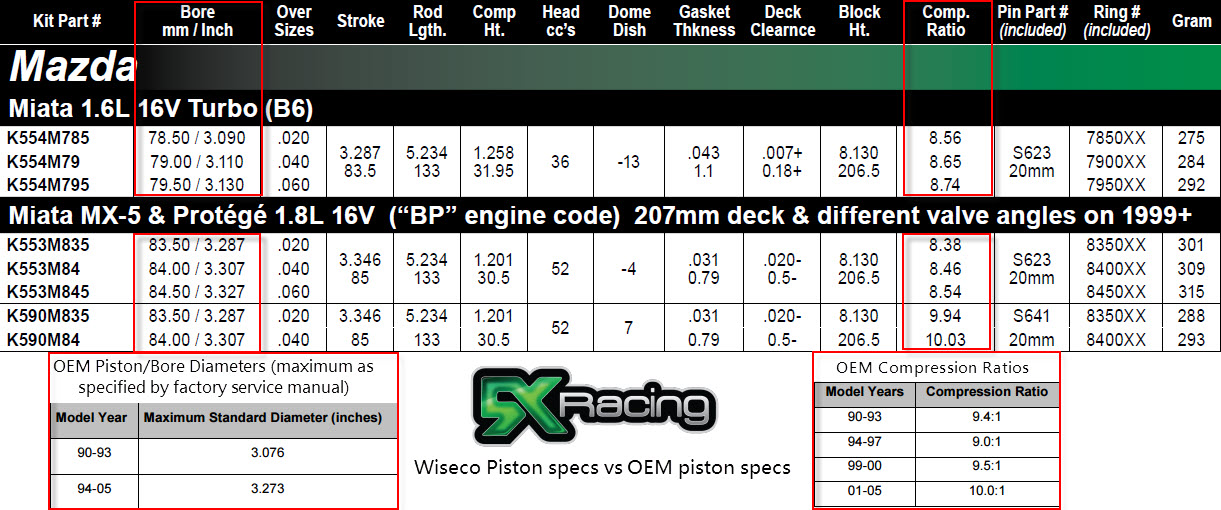 Details
23993569 - K554M79

23993569
K554M79
Dependent on suppliers inventory
New
Shipping Information
Item Requires Shipping
5.0 lbs.
W8.0000" x H6.0000" x L12.0000"
Free U.S. Over $150
Drop Shipped. Shipping method dependent on source
Customer Reviews
Total Reviews (0)
You must login to post a review.
---
---