Home
-
Return to Previous Page
5X Racing Adjustable Timing Wheel for 1999-2005 Mazda Miata
Miata Timing Wheel
Dyno tested and proven to add 5+ HP and 6+ ft/lbs of TQ on a very tired 180K mile 1999 Miata engine! Don't believe us? Check out the dyno sheet
Designed to allow an ignition adjustment range from 6 degrees BTDC to 16 degrees BTDC to accommodate both naturally aspirated engines that benefit from timing advancement, and also turbocharged engines that require retarded timing
Simply replaces factory encoder (timing) wheel located behind the crank pulley on 1999-2005 Mazda Miata. No modifications needed
Works with all engines (2001-2005 VVT included)
Weighs 9 ounces
Painted with a high-durability gray paint
Legal for SCCA and NASA Spec Miata rules
Installation instructions can be found by opening the "Documents" tab below
Availability:
Normally in-stock
Description
Ever wonder how to adjust the timing on your 1999-2005 Mazda Miata? Surprisingly you cannot adjust the factory timing by clocking a cam sensor like previous Miata's, until now! By simply replacing the factory timing encoder (timing) wheel that sits behind your crankshaft pulley with our specially designed slotted wheel, you can advance or retard your factory timing to meet your desired tuning needs.
The 1999-2005 Mazda Miata engines based their ignition timing by way of a crankshaft position sensor. This sensor is simply an electromagnet proximity sensor that senses a passing "trigger", which physically are the four small tips you'll see on your stock trigger (timing) wheel. By allowing the timing wheel to be "clocked" (rotated within it's mounting location), we can now trick the ECU by triggering the crank sensor just a touch earlier (or later to delay it), which in turn will fire the ignition earlier, and consequently advance (or retard) your timing. Very complex in theory, yet very simply done! In the end this wheel will work perfectly in allowing you to advance your ignition timing to achieve better performance, or retard your timing to accommodate a turbocharger. How much performance you ask? Check out our dyno results below!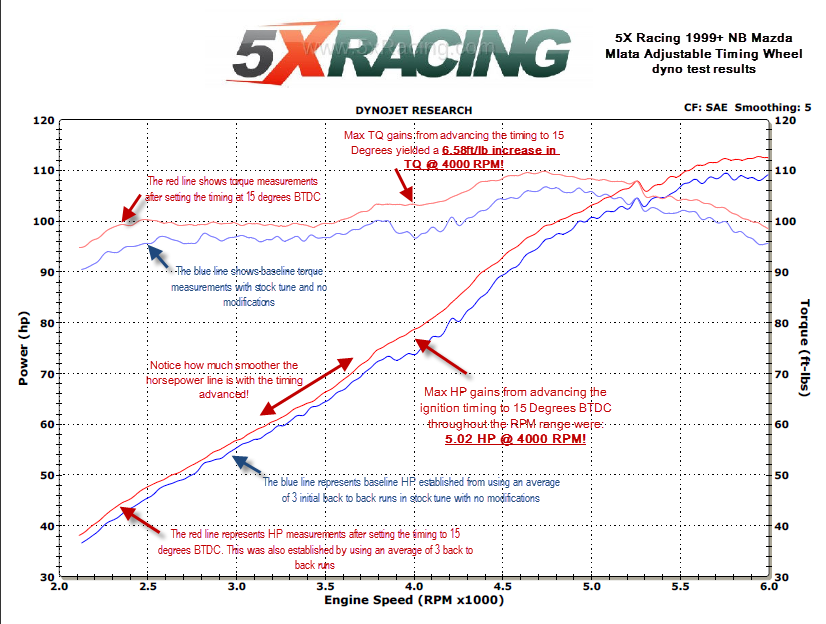 Video Walkthrough
Details
6330020 - 5XRATW

6330020
5XRATW
Normally in-stock
New
Shipping Information
Item Requires Shipping
1.0 lbs.
W4.0000" x H2.0000" x L8.0000"
Customer Reviews
Total Reviews (6)
Yay somthing that works as advrtised
Reviewed by: Jeff11/11/2011 11:37PM
Product ownership: Less than 1 year
Purchased from: 5X Racing
Comments:
We have installed 5X Racings timing wheel on 2 NB Miatas. The first out of curiosity . The second out of neccesity to keep up with the first car. Two thumbs up !!! I wish I could get this much bang for the buck out of more expensive items.
Works great!
Reviewed by: Aaron08/22/2012 05:37PM
Product ownership: Less than 1 month
Purchased from: 5X Racing
Comments:
Install was easy, adjustment is easy, works just like they said. Noticeable increase in TQ. Takes about 20 min to install and adjust (no AC) Highly recommend :)
Works as advertised.
Reviewed by: David05/27/2015 04:59AM
Product ownership: Less than 1 month
Purchased from: 5X Racing
Comments:
Installed the timing wheel which is a simple task, if you can change a belt, you are good to go.

Engine is very eager to rev to fuel cutoff :-) Wow, what a great product for the price. Can easily feels the gains in TQ and HP.

Have a 2002.
just perfect
Reviewed by: ARISTIDH10/02/2016 05:04PM
Product ownership: Less than 1 week
Purchased from: 5X Racing
Comments:
the engine revs much faster and i can feel the extra tq. it is perfect
Perfect
Reviewed by: callum03/16/2017 06:09PM
Product ownership: Less than 1 year
Purchased from: 5X Racing
Comments:
Way easier than trying to modify an existing wheel. Comes labelled so that you install it the right way! A must for anyone looking to adjust timing on the NB car.
Totally worth the money
Reviewed by: Cramer04/21/2017 10:59PM
Product ownership: Less than 3 months
Purchased from: 5X Racing
Comments:
The install was very easy and the power gained was noticeable! It may have been a placebo, but I was able to chirp the tires between 1-2nd gear, with my father in the car. There seemed to be an increase in TQ, which makes sense with their dyno graphs.

I recommend this to everyone! The power per dollar spent here is amazing!

Also my mpg went from 31.221 to 31.431 comparing 10 tanks before and after.

I have a 2001 SE
You must login to post a review.
---
---