5X Racing
»
G-LOC Brakes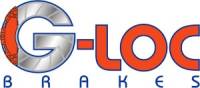 G-Loc Brake Pads are high performance top of the line brakes for almost every vehicle out there. If you do not see the pads you're looking for in our store just email us with your application.
---
Browse Spec Miata Parts
Products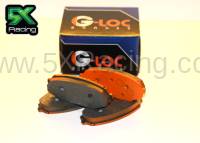 ---
More About
G-LOC Brakes
Danny Puskar and Chris Puskar set out to build a brake pad company in 2003. It took Danny & Chris along with their Father two years to put the deal together with investors to build a brake pad company by racers for racers. By the end of 2005 Danny and Chris moved to North Carolina from Northeast Ohio without their families to start working on this new venture. A few months later they moved their families down. This was a calculated risk, but a risk that paid off. Danny and Chris successfully grew this brake pad company for 10+ years, more than doubling its business during that time period and establishing the company as a name brand for enthusiasts and racers alike. During these 10+ years Danny and Chris led the company into new markets and developed new products, making it a truly global company. Danny and Chris led the way on expanding the company's compound range from five compounds to ten. However, this impressive growth was not enough. Unfortunately, over time, philosophical and business practice differences led Danny and Chris to become quite frustrated in their roles in the business they had grown so soundly. The tensions continued and Danny and Chris became disenchanted with the situation and where it was headed. This led Chris to leave the company at the end of 2014 and he went on to pursue other interests, including leading engineering efforts at a different brake component company, where he gained even more expertise in this industry. Chris and Danny often discussed how they would have done things differently, which led to exploring how to start their own company from scratch. The were enamored with the notion of building it, running it, owning it, growing it, and combining their 20+ years of collective experience to make a new, different, and better mark on this industry. This led to the creation of G-LOC Brakes with Danny and Chris in the ownership seat. Looking back, it is all water under the bridge, and 10 years of experience, engineering, and good business lessons learned have instead become the foundation to build upon for G-LOC Brakes. The launch of G-LOC Brakes is great news for dealers, customers and all of the deep relationships both brothers have built in this industry over the years. It allows Chris and Danny to run a company like they believe it should be run and service dealers and ultimately customers in a way that articulates their strong commitment to customer loyalty, coupled with their drive for innovation in an industry they both know so well. How did all this happen? Chris and Danny's idea of starting a new company led them to collaborate with like-minded business partners who have a unique combination of both racing experience and strong professional business backgrounds. And so, a new partnership was formed enabling Danny and Chris to realize their dream of owning a progressive and customer focused brake pad company. The coolest thing about the partnership is that it was formed from the start on Chris and Danny's terms, leveraging a great recipe of industry experience, thirst for innovation, commitment to the customer, and a business partnership that allows these talented brothers to do what they do best – and own the company as well. G-LOC Brakes has over 50 years of racing experience. That is experience and knowledge that is passed through to you as the consumers of our products. This means G-LOC will meet and exceed all of our partner's high expectations. G-LOC Brakes values include offering the highest in performance friction materials along with a tremendously improved customer service model for each of our dealers and customers. We are committed that things will be different and better than you are accustomed to. Research & Development will be at the forefront from day one and G-LOC Brakes will continuously push the envelope in the friction industry. From our rigorous investments in R&D to implementing our advanced friction technology into all of our compounds is a job that never ends. Great compounds are not engineered overnight – we have already begun our journey. G-LOC Brakes compounds are known for their torque control characteristics along with unmatched modulation and release characteristics. Our compounds are some of the most disc/rotor friendly in the industry. As new materials and technology come to market we are always looking for ways to improve existing compounds along with developing new compounds and new products. While our competition continues to use carbon & iron as their main ingredients in their compounds, G-LOC Brakes will continue down the proven road Danny & Chris proved to be successful at over the last 10 plus years with ceramic, carbon, Kevlar, and semi-metallic based compounds. G-LOC compounds give you maximum control without unnecessarily sacrificing speed or pace. Designed and engineered by racers for racers. An "on/off" switch, that's what most of our competitor's brake pads perform like. It's either full on or full off, nothing in between. This "on/off" switch type of pad has no modulation, control, or smooth release unlike the G-LOC compounds. This "on/off" type of performance upsets the balance of your car under braking making it even more difficult to control. This makes trail-braking almost impossible as well. These type of "on/off" compounds are typically loaded with iron and carbon, and too much of these two materials will form carbide under heat. Carbide is not what you want to use on your disc/rotor surface. The end result will be a compound that is extremely abrasive on your discs/rotors. For G-LOC customers this is not what you want nor will you get with G-LOC compounds. Unmatched modulation, smooth release, trail-braking ability, excellent thermal capacity, excellent thermal barrier from your brake fluid, broad heat ranges, and the most disc/rotor friendly materials in the market is what you will get with G-LOC Brakes.