Home
-
Return to Previous Page
5X Racing 36mm Bump Stops
Bump Stops
SOLD INDIVIDUALLY!
Designed to fit on shocks with 5/8" (15mm) or smaller shaft
Please use chart in the section further down the page to see the difference in the bump stop "colors" (densities) and their possible uses
Densities and Rates:
Yellow (soft): .45g or 100in/lb
Blue (medium): .55g or 200in/lb
Black (Hard): .65g or 300in/lb
Fat Cat Kit White: these are the authentic replacements that Fat Cat used on their kits that employed any 36mm bump stop (such as the "sport" and "race" kits, and the FCM Spec Miata bump stop kits). This is essentially the same specs as the Black .65g bump stop we offer here. Use this option if you would like to replace a bump stop in an existing kit and want to match it to your other bump stops

All bump stops fit up to 5/8" shock shafts
These are the same bump stops that we use in our Sport and Race kits. If you are looking for replacement bump stops for your Fat Cat Motorsports Spec Miata kit, or a previous generation of Fat Cat Motorsports bump stop kit that used 36mm bump stops, please reference our Fat Cat Motorsports FCM-MT-KIT-SM Spare Parts list to order a replacement.
Availability:
Normally in-stock
Shipping:
In-Stock Items ship USPS Priority unless noted otherwise
Description
Specifications:
Outside diameter: 43mm
Inside diameter: 15mm tapered to 17mm
Height: 35-36mm
If you've lowered your car or are using a coil-over kit, these custom moulded bump stops are the ideal choice and a great tool for fine tuning your suspension. Our 36mm bump stops are a specially designed multiple-use bump stop geared towards Comfort/Sport/Auto-x/Track/Race use. A collaboration between Fat Cat Motorsports and 5X Racing, these special bump stops were originally designed by Fat Cat Motorsports then brought to life by us. They are built to utilize only the lower portion of the taller 76mm Speedthane bump stops, capturing the "sweet spot" of that much longer progressive rate stop. Since the 76mm stop is too long for most suspensions, (especially lowered suspensions) this 36mm stop allows the same style of bump stop - just without the length - and is perfectly sized for your lowered, reduced shock travel setup.
When you aggressively lower your suspension, you eliminate shock travel the lower you go. Oftentimes a suspension is lowered so much that it is riding on the bump stops and not even using the shock for absorption anymore and is relying 100% on the bump stops. This obviously effects handling as you're taking the shock absorber out of the system, and relying on the bump stop to handle all of the absorbing. You can regain shock travel by installing a shorter bump stop - such as our 36mm's - and give yourself ride control by choosing the density that best suits your desired driving use. Below is a guide meant to help you tell the differences between our bump stop offerings, and their characteristics.
Features and Benefits:
Special micro-cellular composition foam absorbs shock better than rubber (not "bouncy")
Gain more than 1" total shock travel vs. factory 90-97 Miata bump stops.
Lets your stiffer lowering springs do their job by regaining the lost shock travel from lowering
Force increases linearly to ensure predictable handling
Geared towards use on suspensions that are sitting 1/2" or more under stock height by utilizing stiffer aftermarket lowering springs (ie: Flyin' Miata, H&R, Eibach, etc...), aftermarket coilover kits, or custom coilover kits using adjustable sleeves and with 2.25" or 2.5" race springs
Bump Stop Specs, Pairings, and Suggested Uses:
"Pure Track/Race" kit: A Black front and rear bump stop, or Blue front/Black rear would give stronger bump stop control for a more aggressive driver with a racecar looking for a balance towards oversteering, or is seeking to use their car on the track with adjustable coilovers running an aggressively lowered ride height.
"Drift" kit: Yellow front and Black rears would provide a strong oversteer bias (100 lb/in front, 300 lb/in rear). Further tuning could be done via our Flat Stackable Bump Stops or our Delrin Shock Spacers
"All-around/Sport" kit: A Blue front bump stop and Yellow rear bump stop would be a great pairing for those who have a lowered suspension via lowering springs that are seeking auto-x, track days, or enjoy corner carving on backroads.
"Comfort/Cruise/Stance" kit: A Yellow/Yellow pairing would provide extended shock travel for aggressively lowered street cars (stanced, slammed, etc...), yet provide the soft and cushy control for those who just want a comfortable ride in their low cars without sacrificing shock travel.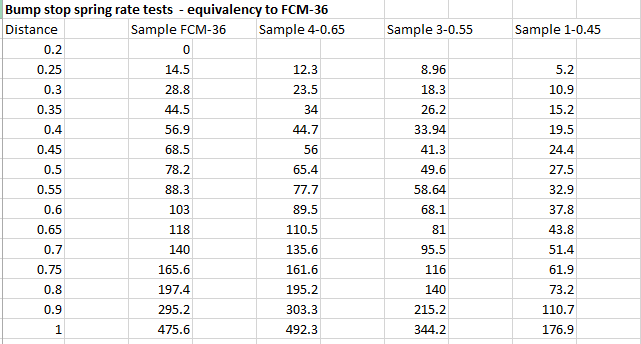 Bump Stop Application Guide
Details
20921904 - 5XR-36mm

20921904
5XR-36mm
Normally in-stock
New
Categories
Shipping Information
Item Requires Shipping
0.5 lbs.
W6.0000" x H6.0000" x L6.0000"
In-Stock Items ship USPS Priority unless noted otherwise
Customer Reviews
Total Reviews (0)
You must login to post a review.
---
---