Project Miata Streetfighter: Vol 1 "the concept"
I am writing this entry in retrospect of the previous article about our engine build, and moreso to everything I've ever done to my daily driver 1999 Mazda Miata when actually I should have written this entry first (I didn't actually come up with this concept until the car got repainted...). I will go back and edit the now outdated volume of the series about our engine build to correctly align with this story. Sorry about that, I was very excited to get my new engine knowledge down on paper!
The whole reason we are building a hot engine for my 1999 Mazda Miata daily driver is because I recently decided to make a "streetfighter" out of it. What's a "streetfighter" you say? Well, first you'll notice that the word is combined, and not separated like the "street fighter" any other kid who grew up in the 90's might think of, where gratuitously epic arcade battles occured between the denizens of the game we all loved before Mortal Kombat arrived! No, in fact the term "streetfighter" was coined by European motorcycle enthusiasts about the same time as I was trying to defeat M. Bison in the game itself. A "streetfighter" is a sport bike that is customized by removing the fairings, and making other changes that result in an overall more aggressive look, according to this wikipedia article here: http://en.wikipedia.org/wiki/Streetfighter. In addition to removing fairings for a more aggressive look, they also dig into the finer points of the machines performance. However my concept of a streetfighter car is a little different, but along the same bloodlines. While I don't plan to strip off body parts to expose the frame (not a pretty sight on a Miata), my idea centers more around turning a basic mild mannered street car into a devestatingly potent track machine that can also coexist with the daily commuters, hence the name "streetfighter". It seems like fitting name to a genre of car that is built for the track, but lives on the street. Almost like a fighter that is trained for the ring, but chooses to fight in the streets. A Streetfighter, yes.
The real reason this whole streetfighter concept started was after my simple $3000 1999 Mazda Miata daily driver got rear ended on the way home from the dyno. We'd just tested our adjustable timing wheel and prototype cold air intake system to great results, and with over 170K miles on the engine and only churning out just over 100 wheel horsepower before our timing wheel and intake gains, I knew this was one tired lump ready to die! So over the course of the last several months I began to prepare myself both financially and mentally for what kind of engine I wanted to build to replace the dying high mileage stock engine. The next entry in the series will explain that in detail, but essentially I wanted an engine that dug deep into our aftermarket engine parts offerings so I could showcase what our company can offer Miata enthusiasts looking to build an engine, as well as something that would stand up to the abuse of regular track days, as I plan to start instructing at local Chin track day events. Throw in the occasional drift or gymkhana events I would like to start getting into and there comes a real need for more horsepower in addition to reliability. The perfect combo for a "streetfighter", strength and stamina.
While I've already done some things to the car that almost move it into the streetfighter genre, such as race suspension, lightweight race wheels, and weight reduction mods, the biggest addition is going to be our engine. The plan is to build a 1.8L engine that is along the bloodlines of an STL (super touring lite) class Miata, which is a class in the SCCA that allows quite liberal engine modifications. Our engine program partner Mesa Balancing regularly builds STL Miata engines that see upwards of 170hp at the rear wheels. Acheiving this amount of horsepower out of a naturally aspirated Miata is no easy feat, and requires: overboring the cylinders, larger diameter high compression pistons, stronger connecting rods, balancing the rotating assembly, larger valves, stronger valve springs, porting and polishing of the head, custom camshafts, adjustable cam timing gears, intake tract mods, exhaust tract mods, and possibly even a custom ECU to accomodate all of the changes being done that are way beyond the tune for a stock engine. While we're not planning on immediately realizing ALL of these mods on our car, we're going to construct the foundation for them anyways, starting from the engine block up. Overboring, high compression pistons, stronger rods, bigger valves, stronger springs, 04-05 Mazdaspeed Turbo (or JDM spec 99-00) intake cam, stock exhaust cam, and adjustable cam gears. Later, if we want to supercharge, or go to a aftermarket programmable ECU, we know our "foundation" will support it. We are going to skip the port and polish as it is quite expensive, and we also wanted to dabble in cams as it is something we can certainly offer off the shelf on our storefront unlike the port and polish, which is entirely custom.
The other reason why we wanted to build this engine was to create a "sample" of what we can do with our Mesa Balancing partnership We will be offering "ready to go" cylinder head and lower end packages via Mesa Balancing through our store based on this research. We wanted to first build our idea and will test it in the real world, the street and track, then decide what packages would suit customers the best based on their desired use. For instance: 10.5:1 compression pistons and upgraded rods for a low end that might see supercharging, or lower compression pistons and upgraded rods for a future turbo setup. Also we're going to be offering "staged" cylinder heads, such as a "Stage 1" head that is shaved to raise compression, has bigger valves, stronger valve springs, and a good valve seat job. "Stage 2" will carry the same items as the Stage 1 with the addition of a port and polish. Stage 3 will carry all the items of Stage 1 and 2, with the addition of a set of custom cams. All of which will bolt onto your existing lower end. Complete engine packages will be offered as well of course.
So, Project Streetfighter lives! We hope you follow along with the future articles about this project, and that it inspires you to build your very own Streetfighter! Of course we are here to help you along the way with the parts you need. We will share every bit of knowledge that we can with you via our "Miata Technology and Information Center" articles, and right here on our blog.
We'll close with some pictures of Project Streetfighter. Stay tuned for the next volume!
Purchase Day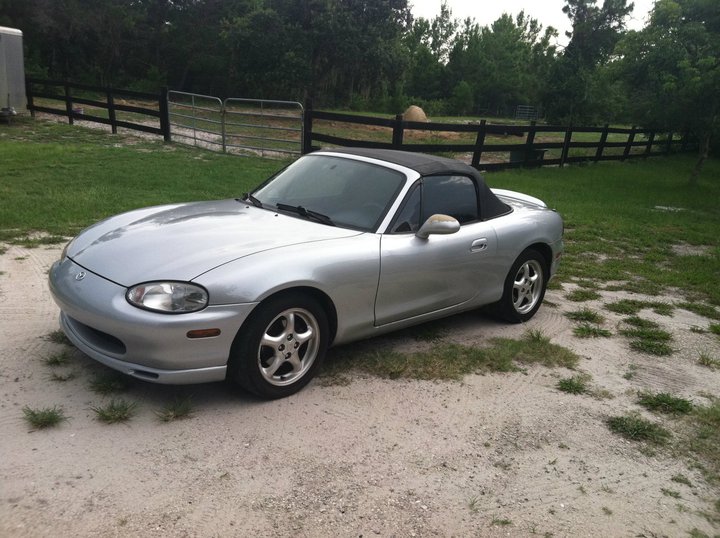 Crash damage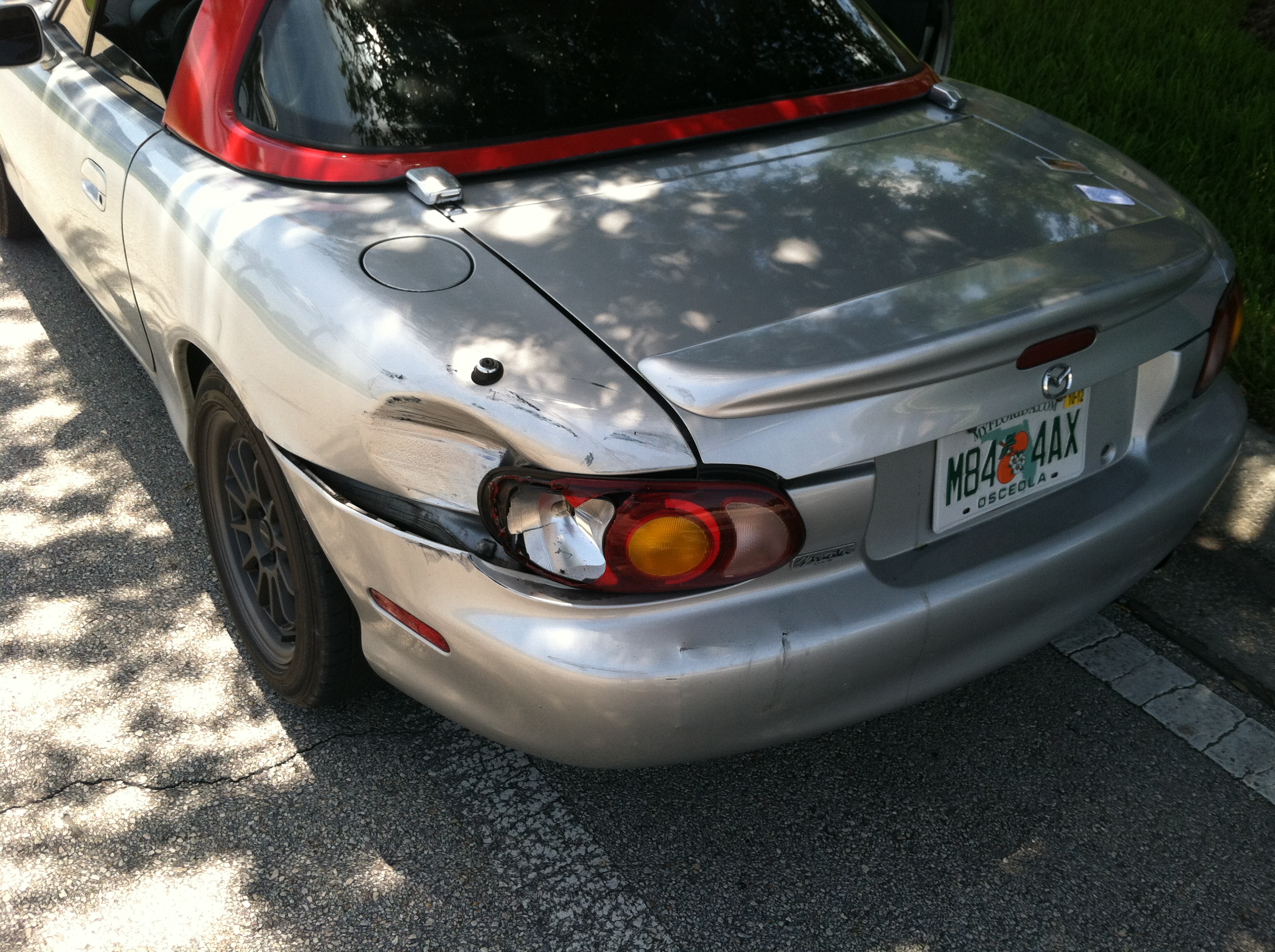 After crash repair and color change to Mazda spec Galaxy Gray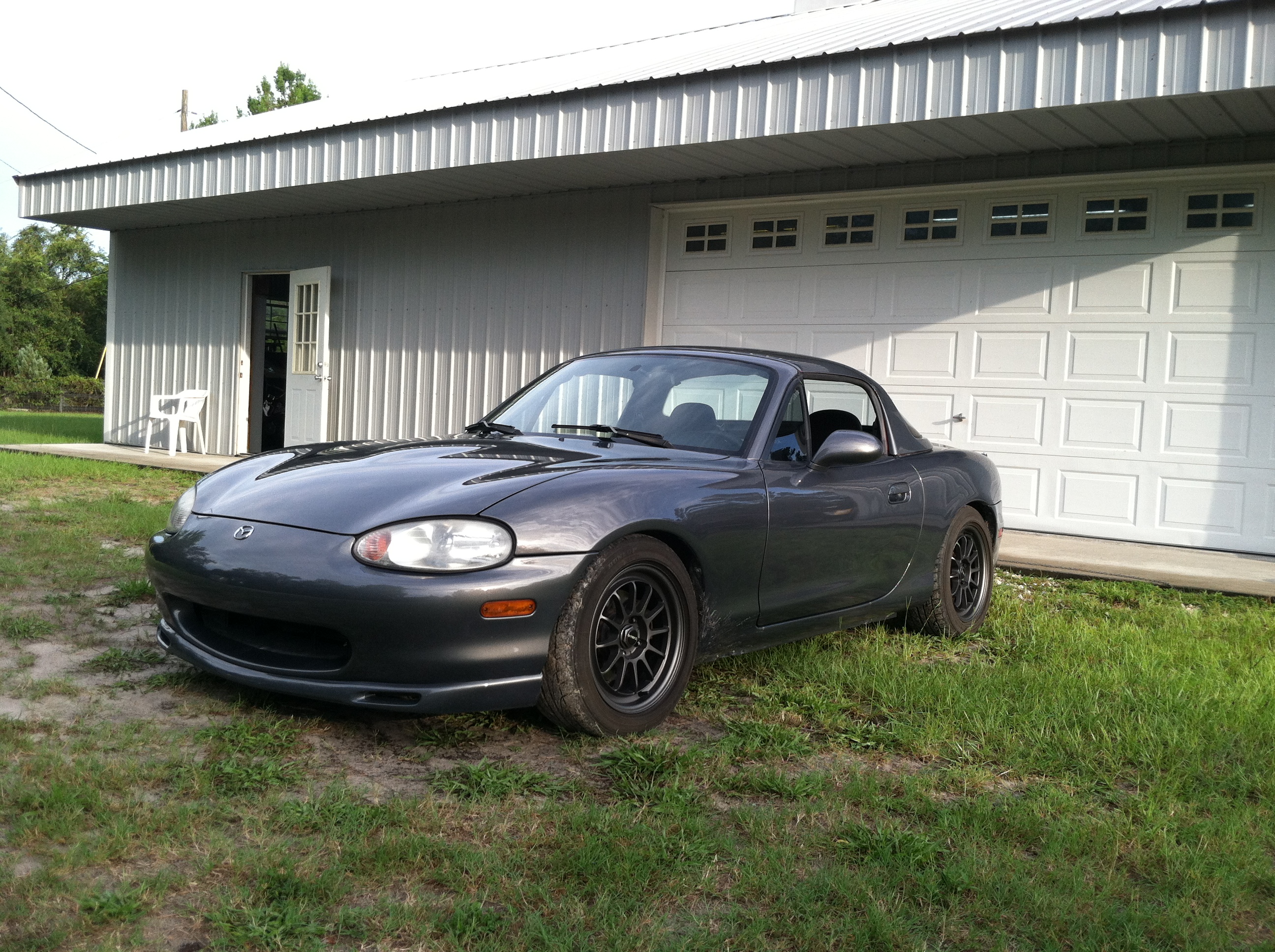 Project Miata Streetfighter in its final form before going down for engine work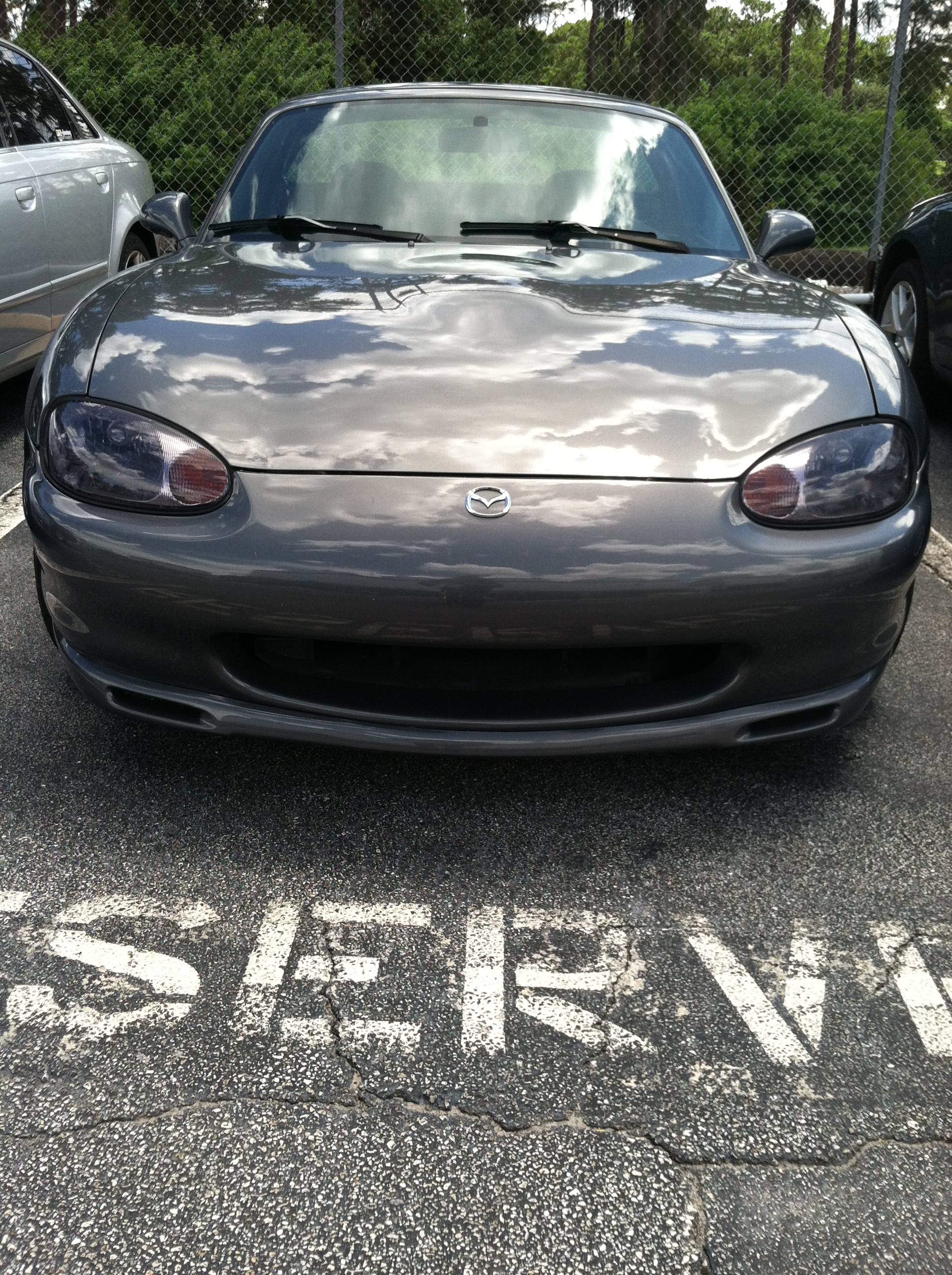 Thanks for reading!
John