Project Miata Streetfighter: Vol 4 "Driving the Train"
For our fourth entry in our Project Streetfighter series, where we are highlighting the rehabilitation/race inspired rebuild of John's daily driven 1999 Mazda Miata, we will highlight the drivetrain. What is driving a Miata? Well, there's a LOT of info in the details of that subject, and if we were to go over all of it, or even a brief history of what the Miata used, you'd leave this page and ignore our story. Basically, it's a front mounted engine/rear wheel driven car. The best layout for any race car or sportscar! There's tons of info on this subject, and for a VERY detailed account of the Miata differentials, please visit the "Differential Spotters Guide" and edjucate yourselves on the different options the Miata was equipped with.
Because the Miata is so "modular", which means that the basic chassis layout, subframes, drivetrain, and suspension pickup points are interchangeable throughout a wide range of different model years, there were many options we could have gone with for our drivetrain, as any setup from 1990-2005 would bolt up to our 1999 chassis. The stock setup in the 1999 model was a 5-speed manual transmission turning a torsen differential'd 4.30 final drive ratio gearset. This was a very "peppy" pairing as the larger gear ratio in the rear end allowed the engine to help the car accelerate quicker. While this setup worked well enough, we had the opportunity to obtain the entire drivetrain from a 2002 Special Edition Miata we purchased to make into our next Spec Miata racer, which came equipped with the newest 6-speed transmission, 3.90 gear ratio, torsen limited slip differential, and the bigger sport brakes (coming soon!)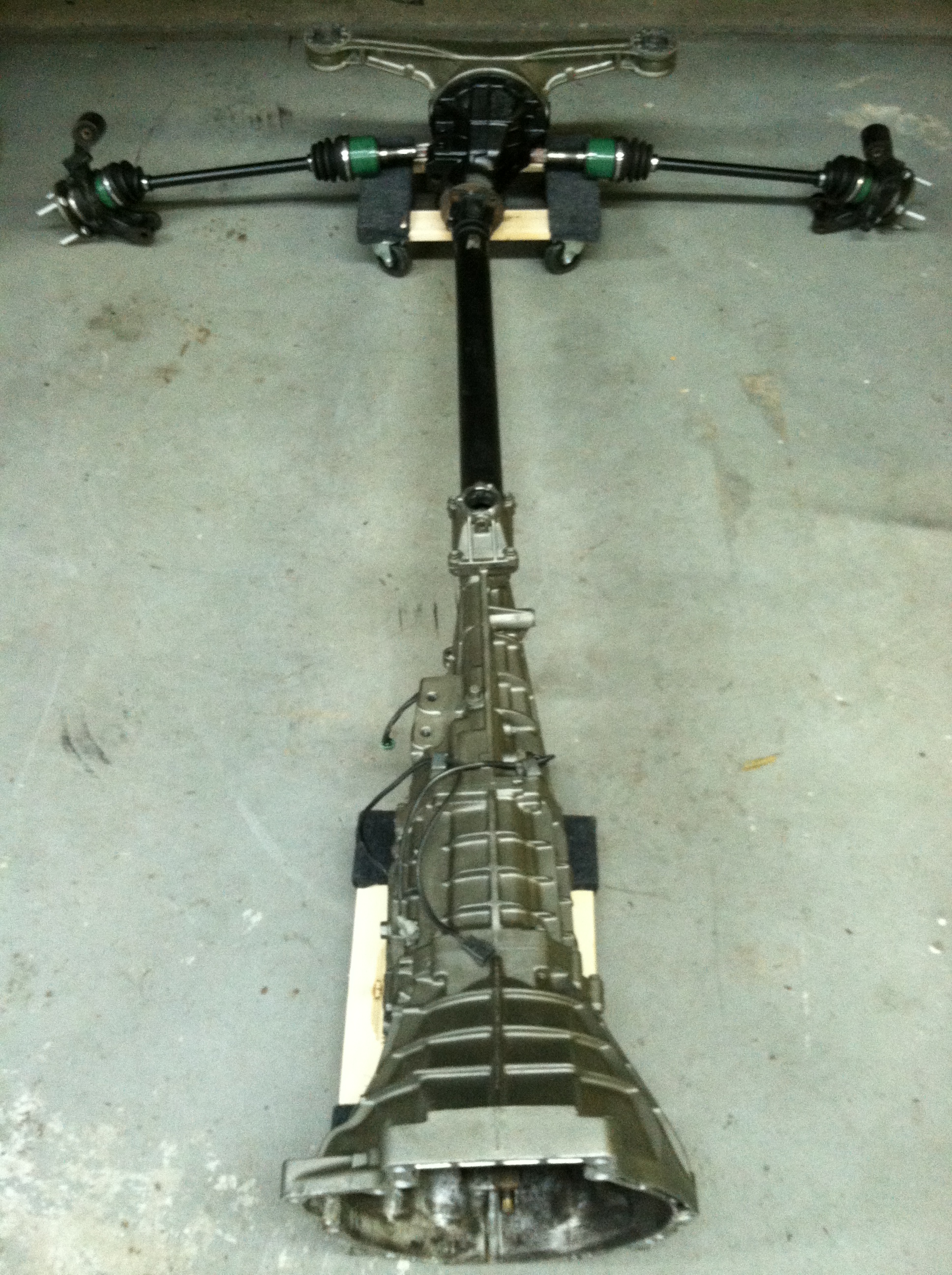 Our cleaned and painted 2002 spec 6-speed drivetrain from front to back
With efficiency in mind for our new power package, the 6-speed interested us because it has a smoother "curve" with the extra gear in the transmission and the lower rear end gear ratio as we feel this would reduce the RPM swing the motor experienced accelerating through the gears. The individual gear ratios of the transmission are not much different than that of the 5-speed, so there's no "overdriven 6th gear" as in many other 6-speed transmissions, but once again it was the smoother curve and closer ratio between the gears we desired.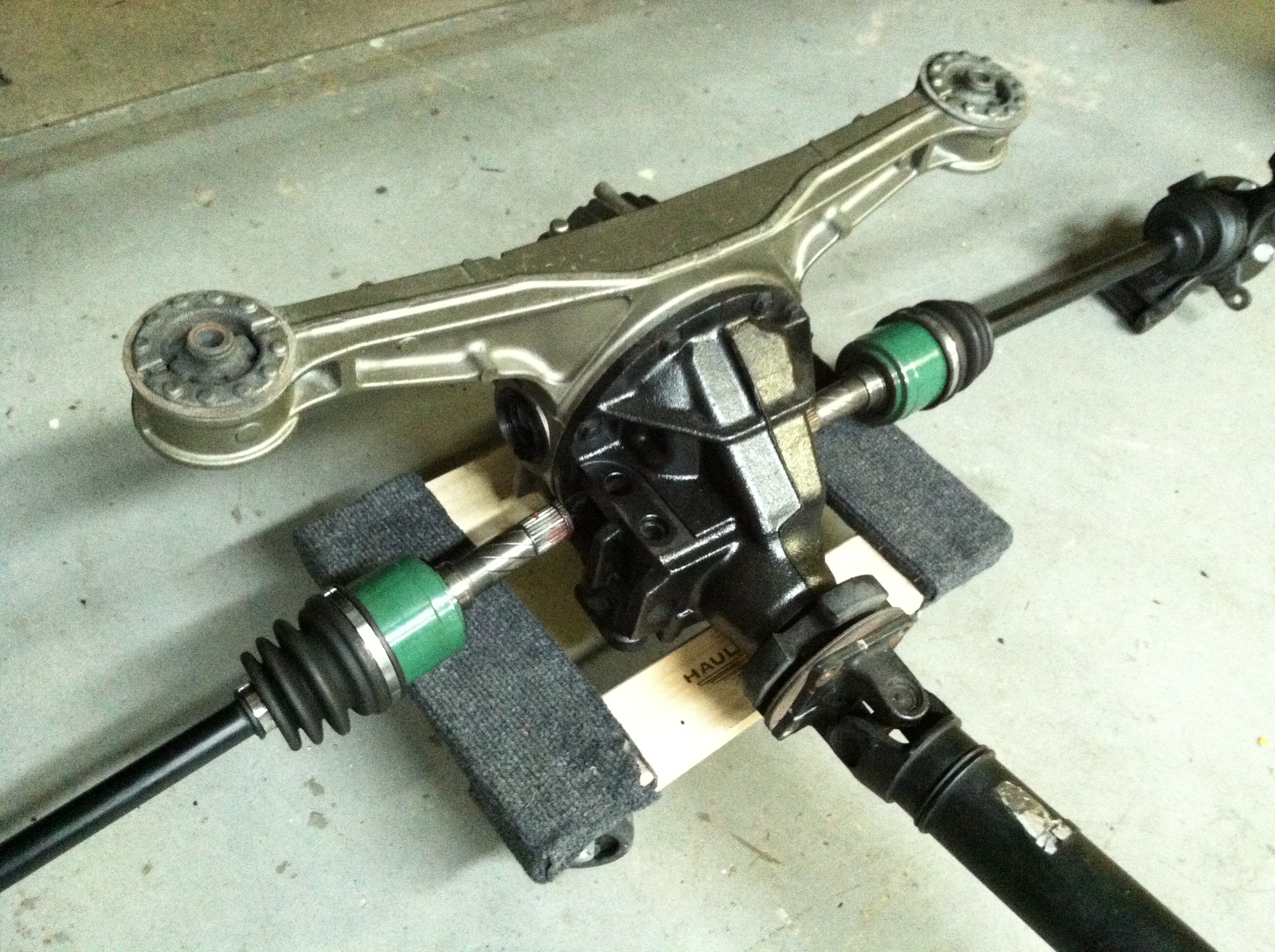 Our clean and freshly painted 3.90 ratio rear end assembly
We didn't rebuild the transmission or rear end to save money (took a chance on the transmission as they are always questionable from previous owners shifting "skill"), but the rear end is virtually indestructable, so we simply cleaned everything really well, painted it, and filled it with high quality Red Line Racing MTL (transmission lube) and Red Line 75W90 gear oil (rear end). We did however treat the rear hubs to our special 5X Racing track day prep blueprinting rebuild service and H&R Springs extended wheel studs that came with our wheel spacer kits. Our track day prep blueprinting rebuild service included cleaning and painting the uprights, housings, and axles, and installing brand new blueprinted rear bearings that are fully disassembled, polished, and repacked with Red Line CVT bearing grease. We've found that this grease works well for street and track day bearings and is more suitable for "all weather" situations than our grease we use in our race prep service, and will suit our car better as it is going to be a daily driver as well as a track day instructor/demo ride car.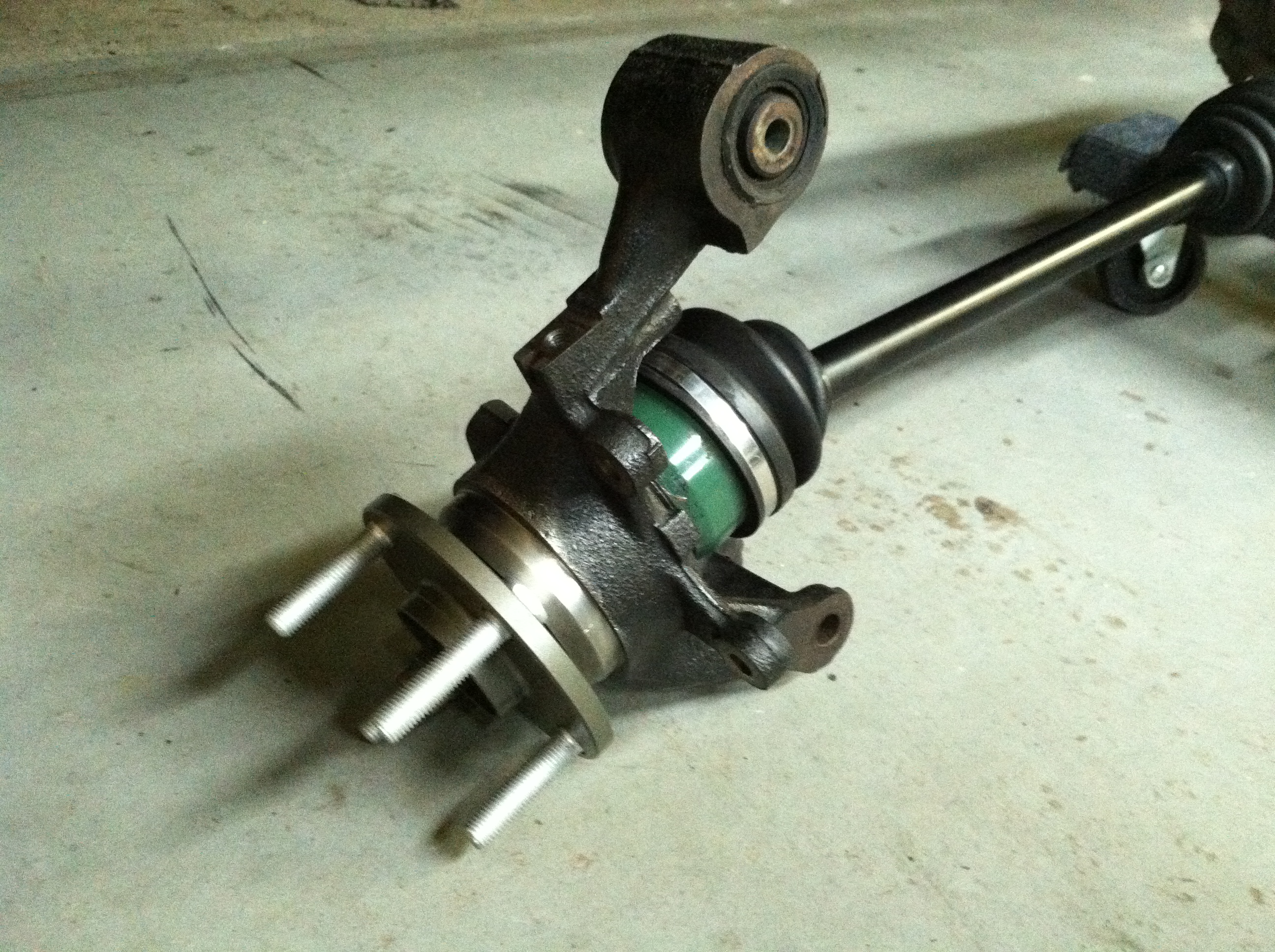 Our "Track Day" Spec Blueprinted Rear Hubs
We're also big believers in lightweight aluminum flywheels. Back in our Mustang days, we installed a SPEC lightweight aluminum flywheel and SPEC stage 2 clutch in our 2001 Mustang GT. The flywheel did wonders for the car in terms of acceleration, deceleration, efficiency, and fun factor. A lightweight flywheel allows the engine to lose 10lbs or so from its rotating mass, which consequently allows it to spin up - and down - at a faster rate because it has less weight to deal with. This translates into a faster accelerating car, and a faster decelerating car. While the Mustang GT's OEM steel flywheel was a monster, the Miata's isn't too bad at 17lbs, but when you install a 7lb flywheel like the Fidanza we installed, it most certainly makes a difference on such a low horsepower engine package! So while the engine was getting refreshed, we chose to go with the 1990-1993 1.6L Miata Fidanza lightweight aluminum flywheel as it is a touch lighter than the 1.8L flywheel, and uses a smaller clutch. At the same time, we went with the SPEC Stage 1 clutch kit, which has an OEM style clutch disc, but with more grip, and stiffer pressure plate springs. The stock clutch in a Miata is pretty good, and won't see slippage due to increases in horsepower until you really start getting up there in HP numbers. We anticipate our package to eclipse 200rwhp in the future, so we went with a conservative, albeit stronger clutch that would be well-mannered for daily driving and stout enough to handle the increase in horsepower both now and for the future.
Along with any clutch change, or even a simple slave cylinder change comes a 5X Racing Full Length Stainless Steel Clutch Line upgrade! This is one of our best selling parts and for good reason - it just makes engine removal/install, transmission removal/install, and clutch hydraulic work SO much easier. So it goes without saying that we most certainly installed one of our lines on the car during our driveline upgrade.
Just as standard as the clutch line is the shifter boots and bushing replacement that EVERY Miata needs more frequently than not! One of our custom 2001+ Aluminum 6-speed shifter bushings was installed as well as brand new OEM Mazda shifter boots. A Mishimoto Heavy Weight Shift knob remained the shifter knob of choice as it makes the shift throws seem even easier with the extra inertia it exerts on your shifts.
Parts interchangeability between Miata model years is outstanding, as basically everything will fit everything. So, more specifically, the 2002 special edition 6-speed transmission and 3.90 rear end is directly swappable with our 1999 5-speed and 4.30 rear end. No modifications needed! Once our 2002 spec driveline was cleaned and painted, we simply just installed it rather than the 1999 spec equipment that came out. Very simple stuff!