Home
-
Return to Previous Page
Fat Cat Motorsports Spec Miata Service Kit
FCM SM Kit Bump Stop Service
Kit Includes:
QTY 4 - 36mm FCM Bump Stops
QTY 4 - Upper MCU Shock Mount Bushings
QTY 4 - Lower MCU Shock Mount Bushings
These pieces are straight from the rules-legal FCM-MT-KIT-SM shock mount/bump stop kit and are recommended for anyone looking to rejuvenate their current FCM shock mount kit
Availability:
Normally in-stock
Shipping:
In-Stock Items ship USPS Priority unless noted otherwise
Description
We created this kit to replace all of the foam MCU pieces in the Fat Cat Motorsports Spec Miata Shock Mount/Bump Stop Kit (FCM-MT-KIT-SM). This kit will replace any worn out or dated foam pieces in your FCM SM kit, as age and extended use can distort and sometimes wear out the foam MCU material.
We're offering this kit at a special price in response to the recent discovery of imitation Fat Cat kits being used at the SCCA Runoffs. There seems to be a lot of racers who were using unauthentic kits unknowingly, and if you're questioning the legality of your shock mount kit or how to tell the difference, we've included a picture of what components the legal FCM kits include and what to look for. If you find that you have an imitation kit, we recommend you purchase a new FCM Shock Mount kit to ensure ALL components are correct and legal. To get more details on the FCM kits, you can also find the blog article we wrote on the history of the FCM kit, why you need it, and how to spot the difference in the authentic, and non-authentic kits here: Spec Miata Fat Cat Kit History and Spotters Guide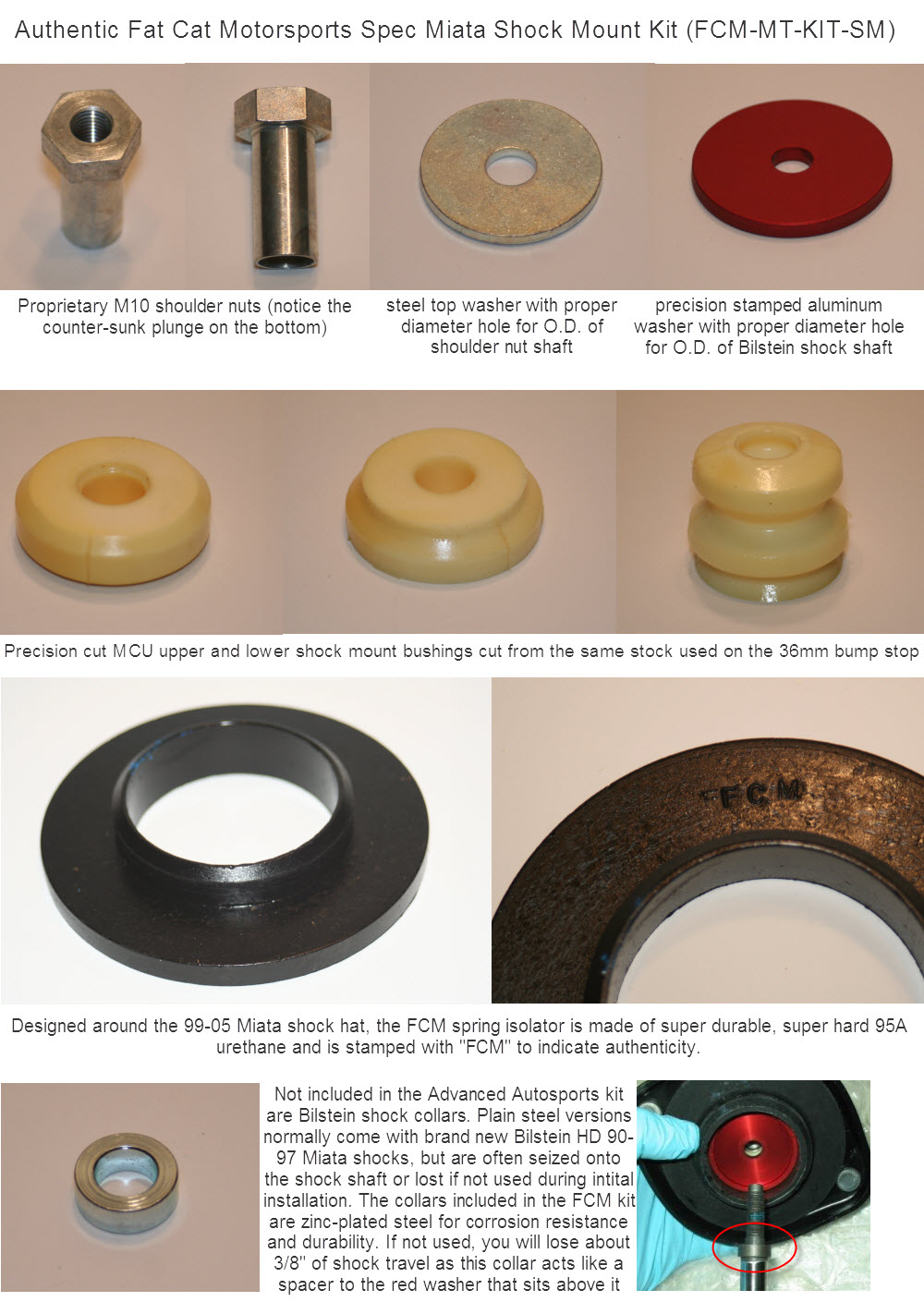 Details
23993314 - FCM-KIT-SVC

23993314
FCM-KIT-SVC
Normally in-stock
New
Categories
Shipping Information
Item Requires Shipping
2.0 lbs.
W8.0000" x H1.0000" x L10.0000"
In-Stock Items ship USPS Priority unless noted otherwise
Customer Reviews
Total Reviews (0)
You must login to post a review.
---
---